(Scroll down to see all current openings.)
FINANCIAL ANALYST
Phoenix Property Management is seeking an experienced Financial Analyst to join its team.
Summary Description:
Under general supervisor, this position will support the firm's management, development and acquisition functions. Main duties will be centered in the management and development division, where he/she will assist with the asset management and financial reporting of current portfolio and with identifying potential investments that fit the firm's investment criteria; perform initial financial projections along with other analyses to determine the suitability of new investments; gather and analyze current economic, financial and real estate market data in desired markets.
Summary of Responsibilities:
Assist in the preparation of monthly financial statements
Analyze and compare market trends within the portfolio as well as new investments
Responsible for the preparation, coordination, and documentation of financial analysis projects such as financial and expense performance, rate of return, depreciation, working capital, and investments.
Assist with the construction and maintenance of the firm's underwriting models in Excel.
Assist with research and analysis of new potential investments.
Collect, analyze and catalog the potential developments' due diligence materials.
Assist with the preparation of investment and financial packages for investors and underwriters.
Gather and analyze local market data and industry trends.
Perform other ad-hoc assignments as needed.
Coordinate internal resources and third parties/vendors for the flawless execution of projects.
Assists in all aspects of deals from the due diligence through closing.
Provide overall support to the real estate development team.
Ability to work independently and as a team player.
Qualifications:
BS Degree (or working towards) in Accounting, Finance, or other related field. Prior experience in financial modeling and analysis is required.
Expert level in Excel including familiarity with macros – strong spreadsheet and database skills. Proficient in MS Office including Access.
Strong financial analysis skills and understanding of financial terms and principles including Net Operating Income, Debt Service Coverage Ratio, Internal Rate of Return, and Return on Equity.
Must possess solid analytical and organizational skills with meticulous attention to detail and the ability to multi-task; excellent written and communication skills; self-starter with initiative and ability to follow through on assignments from general instruction with little supervision; ability to prioritize tasks effectively.
Compensation and Benefits:
Phoenix Property Management offers competitive pay and benefits package which includes, but is not limited to, medical, dental, 401(k), STD, life insurance, Employee Assistance Program (EAP), paid vacation and personal time off.
EEO Statement:
Phoenix Property Management is an Equal Opportunity Employer. We evaluate qualified applicants without regard to race, color, religion, sex, national origin, disability, veteran status, gender identity, sexual orientation and other legally protected characteristics. Phoenix Property Management is a smoke and drug free work environment.
Submit resume to:
HR@phoenix-ri.com (email)
401-739-3163 (fax)
Phoenix Property Management, 250 Centerville Road #E11, Warwick, RI 02886 (mail)
ASSISTANT PROPERTY MANAGER
Be part of the team operating a social service enriched subsidized apartment community in Newport. Responsible for leasing, subsidy related paperwork, subsidy program compliance, and rent collection. Provide support to the Director in resident relations. Must be computer literate and have excellent organizational skills. Full time. Salary 55K. Benefits.
Submit resume to:
HR@phoenix-ri.com (email)
401-739-3163 (fax)
Phoenix Property Management, 250 Centerville Road #E11, Warwick, RI 02886 (mail)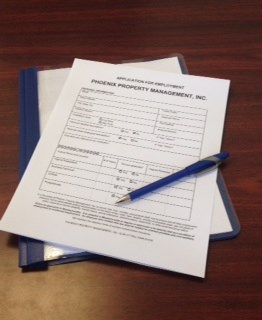 Thank you for your interest in our company!